Regarding Hygiene Management and Sanitization
To ensure that our guests can unwind in a safe and pleasant environment with peace of mind, all staff at Yunushi Ichijoh are committed to thorough hygiene management (sanitization, etc.).
While we place the highest priority on the safety and security of our guests and their comfort during their stay, we ask all guests for their cooperation in certain areas and we thank you in advance for your understanding.
Initiatives

In-house initiatives
Sterilization and cleaning of guest rooms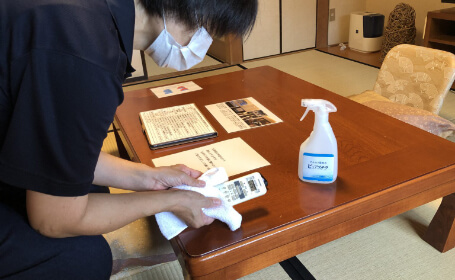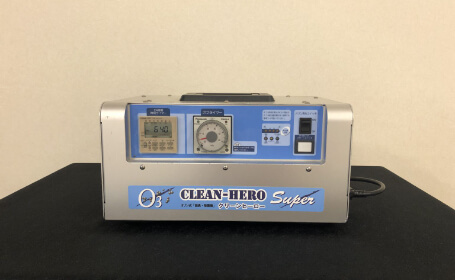 Areas contacted by guests (remote controls, tables, iPads, doorknobs, switches, etc.) are wiped daily with alkaline electrolyzed water with a pH of 12.5. In addition, we sterilize and deodorize daily using an ozone generator.
Installation of Airdog (air purifier)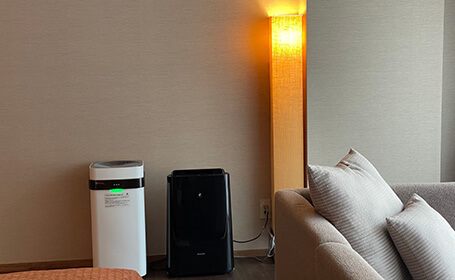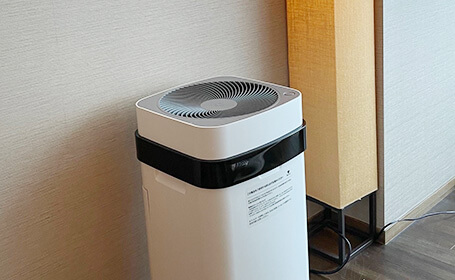 All guest rooms and the lobby are equipped with "Air dog", the world's most advanced high-performance air purifier capable of removing 0.0146 microns of airborne particles that are smaller than viruses, to thoroughly sterilize and ventilate the space.
Disinfection and cleaning of public spaces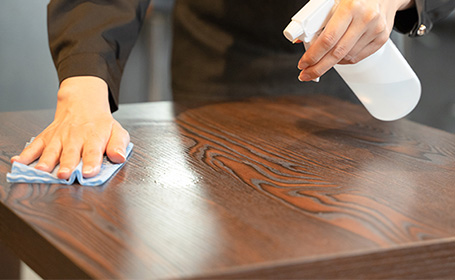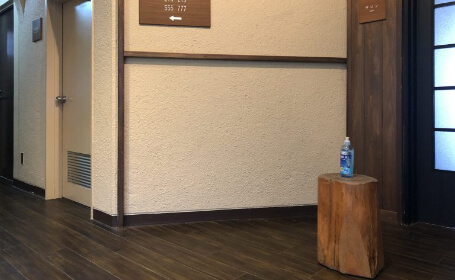 Electrolyzed acidic water (hypochlorous acid water) is sprayed around the lobby, changing rooms (including private baths), and bathing areas after check-out to disinfect the area. In addition, the inn is equipped with sanitizer in all areas of the building to sterilize the areas of concern at any given time.
Disinfection and cleaning of kitchen and dining areas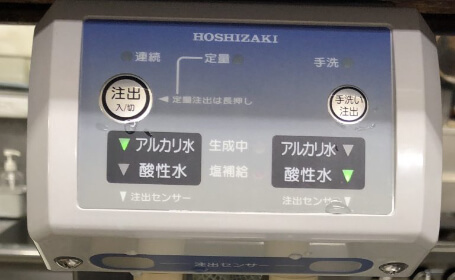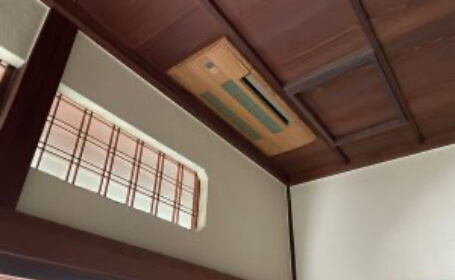 An electrolyzed water generator manufactured by Hoshizaki has been installed. In addition, alkaline and acidic water are used as required for utensils and knives to ensure hygienic conditions. Acidic water is also used to disinfect food and ingredients. All air conditioners in the Ryotei private dining room "Shoan" are antibacterial and antiviral.
Request

Requests to guests
Requests at check-in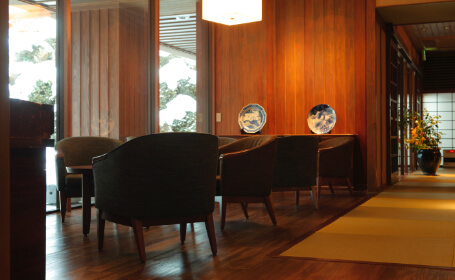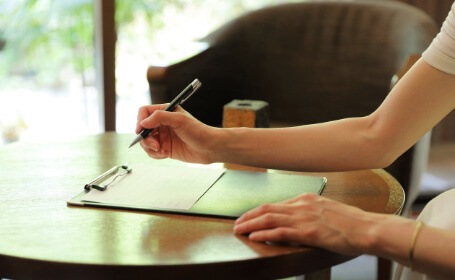 Please check in at the lobby or lounge. Depending on the level of congestion, we may ask you to check-in in your room. We ask for your cooperation in filling out the names of all guests in addition to the representative's entry in the guest register. Please be assured that pens and tables used at check-in are disinfected each time.
Requests at the Ryotei private dining room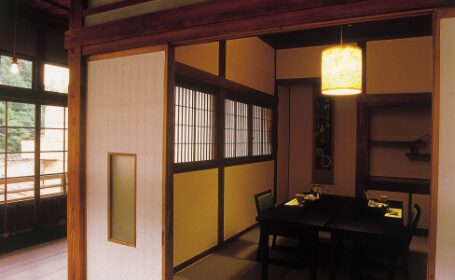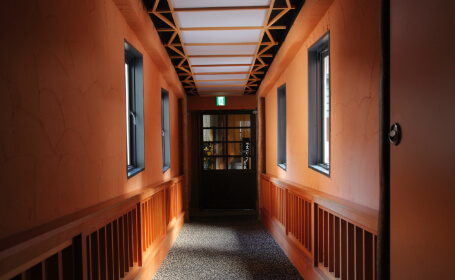 Dinner and breakfast are served in the Ryotei private dining room. Please be assured that each room is separated by a wall. At present, we only accept overnight bookings in numbers (up to 6 people) that can be accommodated in a Ryotei private dining room, and we refrain from the use of the banquet halls (the Salon is used at Yunushi Ichijoh).
Guests will be guided to the Ryotei private dining room at intervals to prevent mixing with other guests. A member of our staff will make an internal call to your room before picking you up.
Requests at check-out
Please note that the lounge and lobby may become congested during check-out time (around 10:00-11:00 a.m.).
Guests may arrange for settlement in their rooms, lobby, or at the lounge after breakfast. Please take advantage of the availability.
Emergency hospitals and public health centers
Katta Public General Hospital
36 Shimoharaoki, Fukuokakuramoto, Shiroishi City, Miyagi Prefecture 989-0231
Tel: 0224-25-2145
6 minutes by car from Yunushi Ichijoh
Medical Corporation Jojinkai
Oizumi Memorial Hospital
5-1 Ipponmatsu, Fukuokafukaya, Shiroishi City, Miyagi Prefecture 989-0731
Tel: 0224-22-2111
15 minutes by car from Yunushi Ichijoh
South Miyagi Medical Center
38-1 Nishi, Ogawara Town, Shibata District, Miyagi Prefecture 989-1253
Tel: 0224-51-5500
30 minutes by car from Yunushi Ichijoh
Sennan Public Health Center
Yunushi Ichijoh is under the jurisdiction of the Sennan Public Health Center
129-1 Minami, Ogawara Town, Shibata District, Miyagi Prefecture 989-1243
Located in Ogawara Joint Government Building, Miyagi Prefecture
Tel: 0224-53-3115